They say it takes a village to raise a child, and it does! With your contribution to CASBHC, you are not only helping adolescents, but you are also helping to ensure the survival of School-Based Health Centers and the critical role they play in creating a healthy and thriving future generation of Connecticut.
The association is a 501(c)(3) charitable organization. Your monetary donations qualify for tax deductions.
Become A Member Of CASBHC!
• Affiliate Membership: Affiliate: $100
This membership category is for organizations who wish to show their support for healthy children and adolescents and believe that healthy kids make better learners and build stronger communities. All members in this category will be identified on the CASBHC website, receive the CASBHC newsletter, and be eligible for reduced fees for conferences and workshops.


We advocate for you on state and federal issues

Training opportunities and expert consultation to new and existing school-based health centers (SBHCs)
Discount fees on training events

Monthly information and Newsletter
Build local, statewide, and national support for SBHCs

Representation on statewide committees
It is being connected to a networking group of others who care about youth's health and future in Connecticut and the nation.
CASBHC Conferences - Do you want to be an exhibitor at our 2020 conference
Become a 2021Conference Sponsor or Exhibitor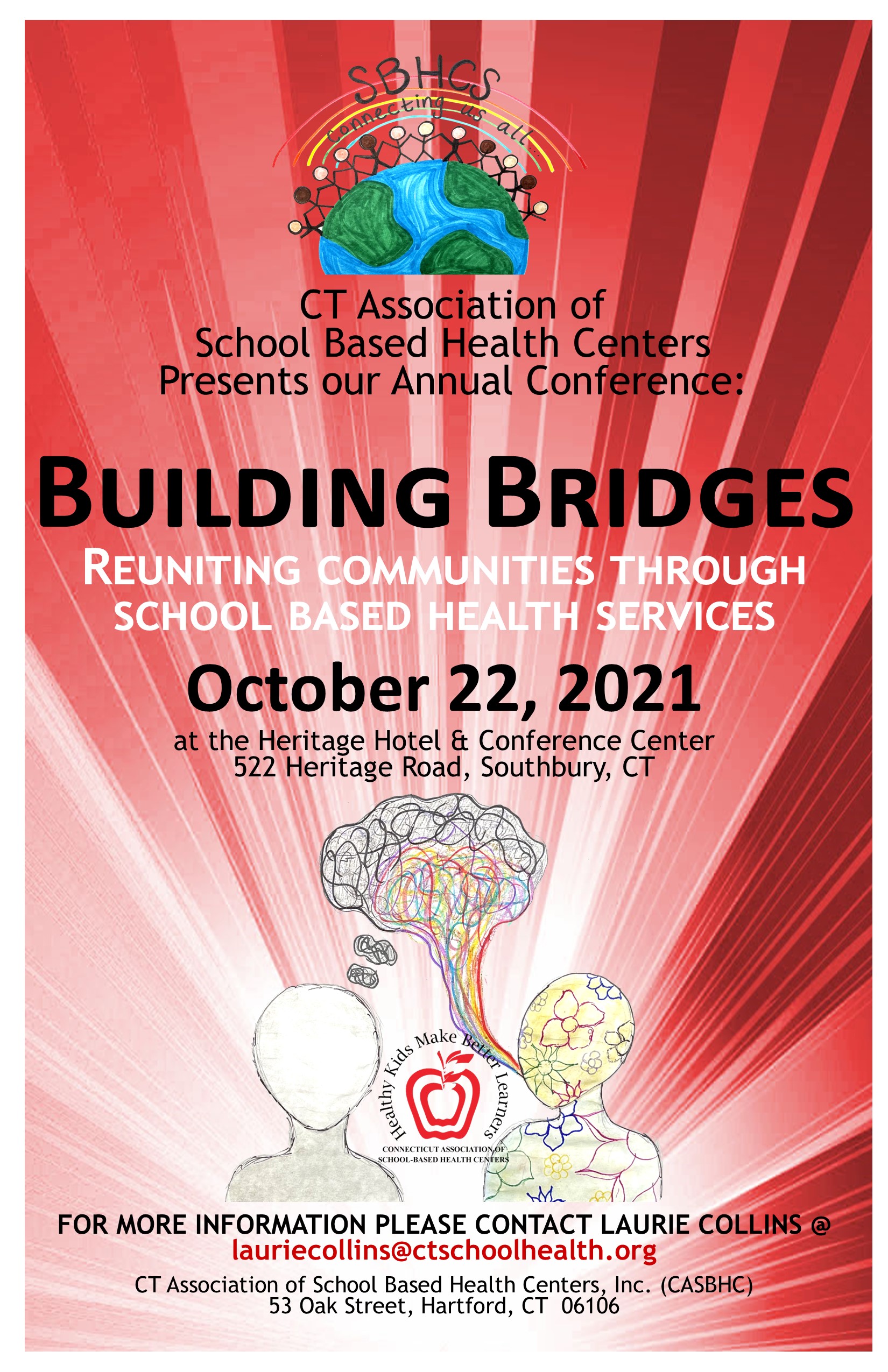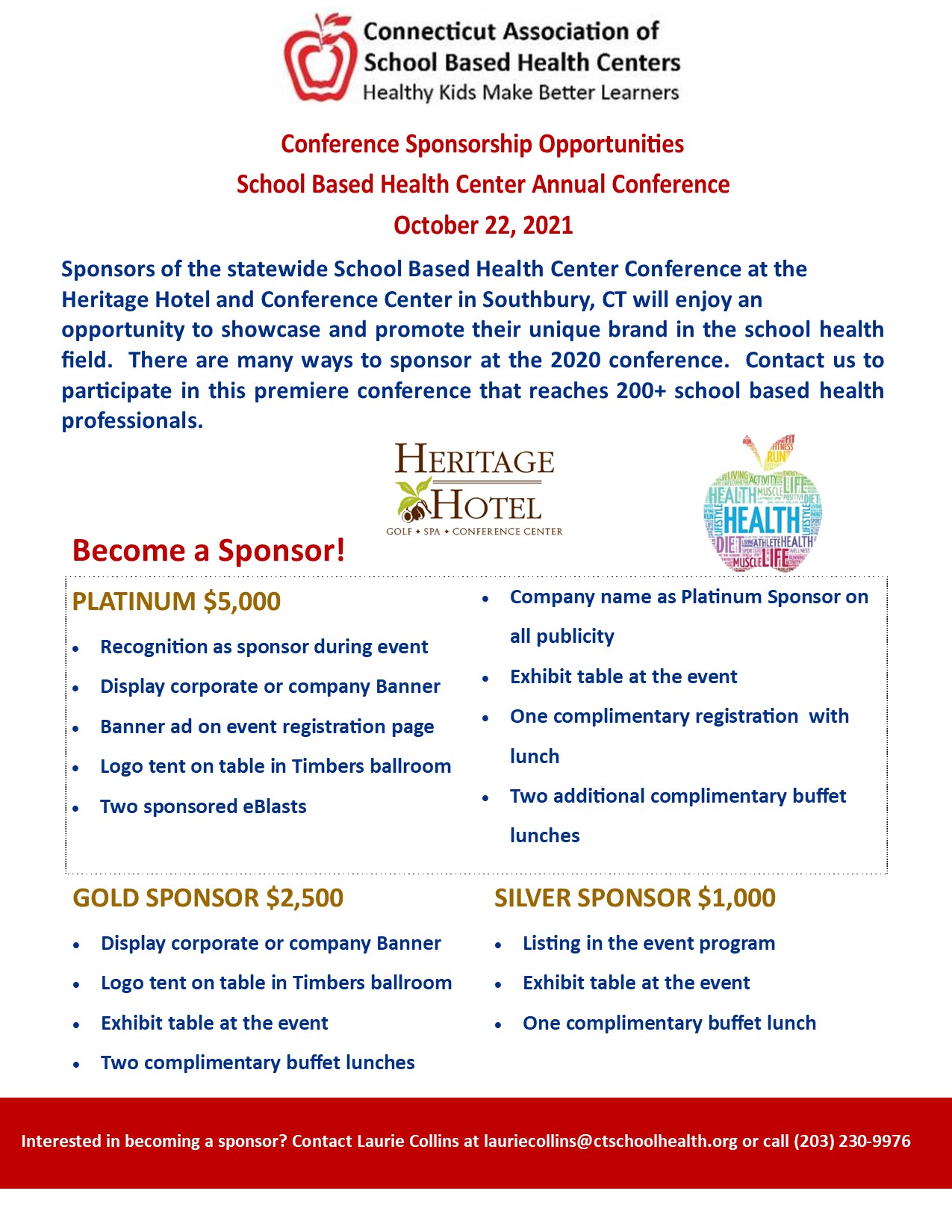 If interested in becoming a 2021 CASBHC Conference sponsor, please complete a registration form.
Advocacy and Legislative Priorities
CASBHC's Legislative Priorities 2021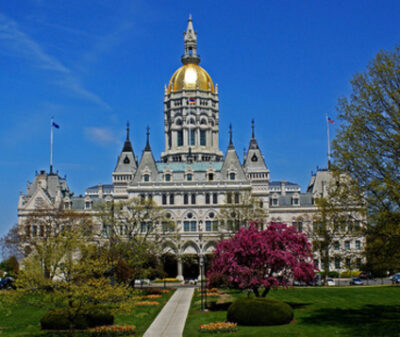 State Legislative Priorities:
Maintain funding for all School Based Health Centers in state budget.
Continue to work with legislature to advocate for maintaining current State funding allocation for direct service delivery.
Work with CASBHC membership to apply successful advocacy strategies as well as new strategies to reach out to legislators to increase support for SBHC funding.
Target education and outreach to new legislators and legislative leaders as well as less-seasoned legislators to increase the number of Legislative Champions for SBHCs.
Advocate for further expansion of School Based Health Center (SBHC) and Enhanced School Health Services Sites (ESHS) to areas of the State where access to health care is limited through increase in state funding.
Conduct an environmental scan to identify areas of state where access to quality and affordable mental health care services for children is limited due to various barriers, including: geographic/transportation, mental health professional shortage area, lack of insurance (i.e. Northwest and Northeast corners of the state)
Promote to State SDE, school district administrators, Health Directors, town officials and legislators how SBHC and ESHS services can effectively fill the health care service gaps.
Advocate for the expansion of HUSKY eligibility.
Include in conversations with legislators
Educate membership re: importance of HUSKY for parents and kids to centers' sustainability
Participate in Medicaid Strategy Group campaign—events, actions, etc.
Extend the deadline for Department of Social Services/Medicaid reimbursement of telehealth audio-only service delivery.
Monitor existing bills to expand / extend telehealth reimbursement
Participate in public hearings / testify on the value of telehealth services for SBHCs
Federal Legislative Priorities:
Work with the School Based Health Alliance and other national partners to advocate for Federal funding through the Hallways to Health bill to offer funding to state based school-based health center organizations for the express purpose of providing technical assistance to existing and developing SBHCs within each state, including:
   provide advocacy, training, and technical assistance to school-based health centers, including maximizing Federal and State resources;
   support the development of school-based health centers;
   enhance the operations and performance of school-based health centers;
   work with centers to ensure compliance to core standards.
Resources for Adolescents
Federal briefings are a regular part of the annual National 4-H Conference and allow youth to present on a topic to federal employees who play a role in implementing policy.
TeenTalk Summit Promotes Mental Health In Schools
Kids in Crisis places counselors in Fairfield County Schools
If you think drugs won't affect your health, think again. Get the facts about the most commonly abused drugs. Learn what they are and how using drugs, even just once, can affect your body and your mind.
DoSomething.org
is one of the largest organizations for young people and social change.